GMIS, 2023 comes to an end with resounding success of 360 MoUs with investment commitment of ₹8.35 lakh crores, additional investible projects worth ₹1.68 lakh crores announced

Valedictory session of GMIS witnessed Union Ministers Nirmala Sitaraman, Dharmendra Pradhan, Piyush Goyal, along with Sarbananda Sonowal

Chief Minister of Gujarat, Bhupendrabhai Patel, Deputy CMs of Maharashtra, Devendra Fadnavis along with MoS Shripad Naik and Shantanu Thakur graced the valedictory session

Union Minister held ministerial level bilateral meetings with Ministers from Italy, Tanzania, Sri Lanka, Nepal & Netherlands to foster maritime cooperation

More than 50 countries and 215 international and national speakers participated during the Summit
The Global Maritime India Summit, 2023, one of the largest maritime summits in the world, anchored ₹10 lakh crores of investment during the three day event, which concluded here today. With this huge feat, the third edition of the GMIS made a significant stride towards achievement of 'Amrit Kaal Vision 2047' of ₹80 trillion investment – a vision document shared by Prime Minister Narendra Modi for the development of maritime sector by 2047.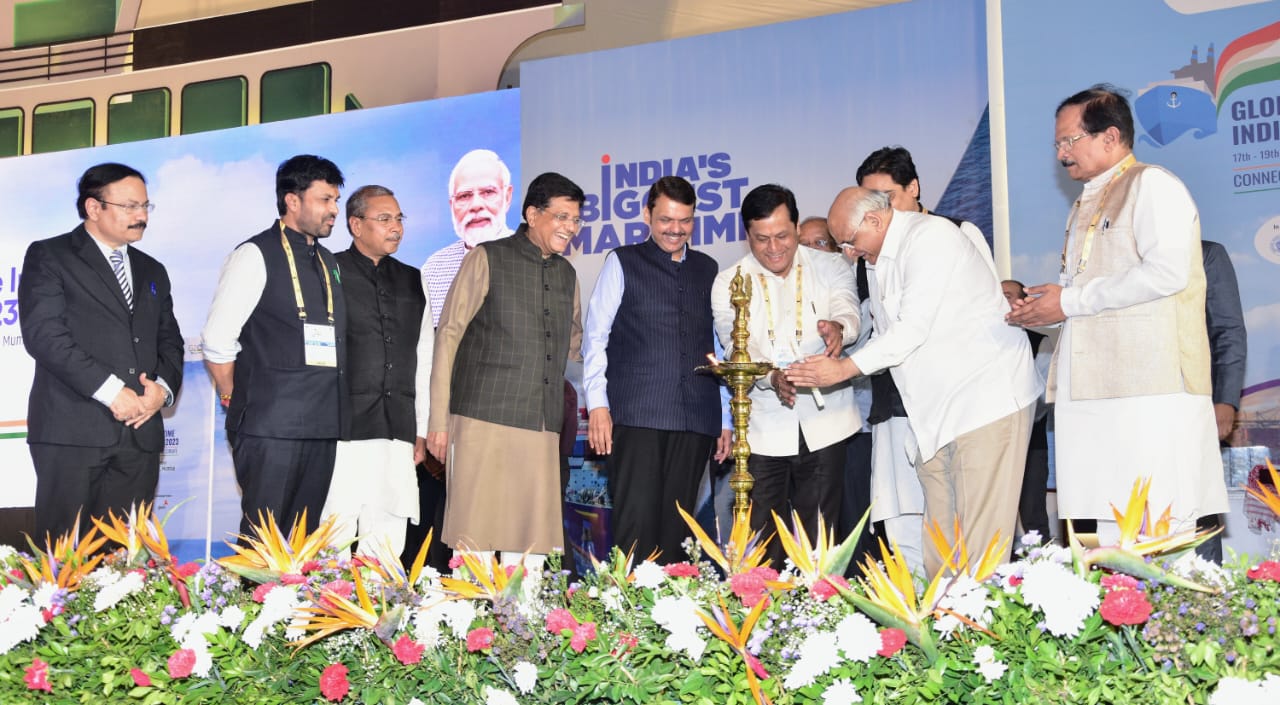 At the valedictory session of the GMIS, 2023, the Union Minister of Ports, Shipping & Waterways and Ayush, Sarbananda Sonowal unveiled the  'GMIS 2023 Mumbai Declaration' along with the Union Minister of Finance, Nirmal Sitharaman; the Union Minister of Commerce & Industry, Piyush Goyal; the Union Minister of Education and Skill Development & Entrepreneurship, Dharmendra Pradhan; the Chief Minister of Gujarat, Bhupendrabhai Patel; the Deputy Chief Minister of Maharashtra, Devendra Fadnavis; the Deputy Chief Minister of Maharashtra, Union Minister of State for Ports, Shipping & Waterways, Shripad Naik, the Union Minister of State for Ports, Shipping & Waterways, Shantanu Thakur among others.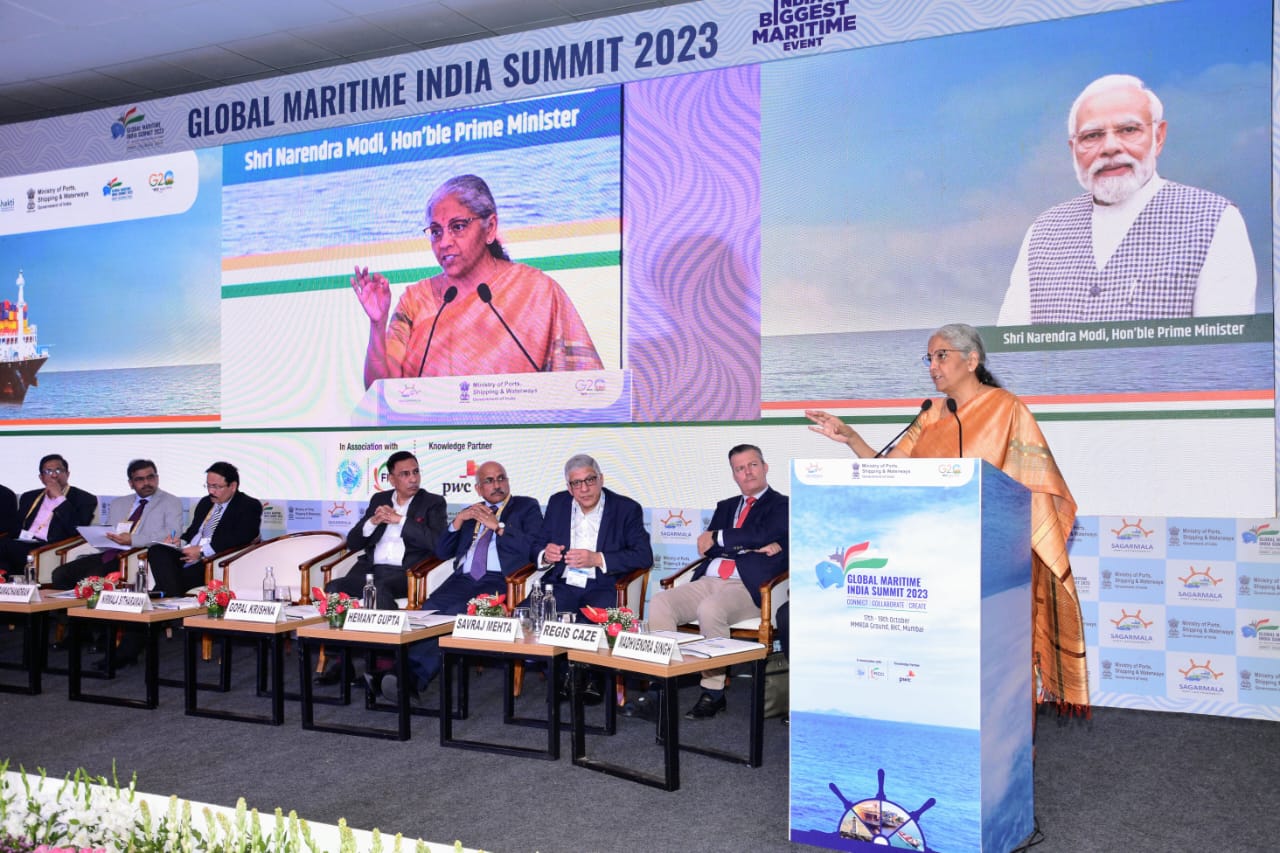 Speaking at the valedictory session of GMIS, 2023, the Union Minister of Ports, Shipping & Waterways and Ayush, Sarbananda Sonowal said, "The Global Maritime India Summit, 2023 has made a wonderful beginning by securing an investment commitment of more than ₹10 lakh crores towards achieving the vision of our visionary Prime Minister Shri Narendra Modi ji as envisioned in the Maritime Amrit Kaal Vision, 2047. The vision document launched by Modi ji charts a roadmap for the development of India's maritime sector with a time bound implementation plan on multiple areas. With the record number of MoUs signed among the stakeholders, the summit has unrolled the trajectory for India to become a global maritime hub. We would like to extend our gratitude to the 10 partner countries, more than 50 partner countries, all the stakeholders, delegates who established a connection during this summit to collaborate on identified areas for cooperation and create future proof solutions. With your active support towards the success of this summit, we believe that GMIS has achieved its objective that offered a platform to boost regional cooperation, collaboration among maritime nations, across dimensions."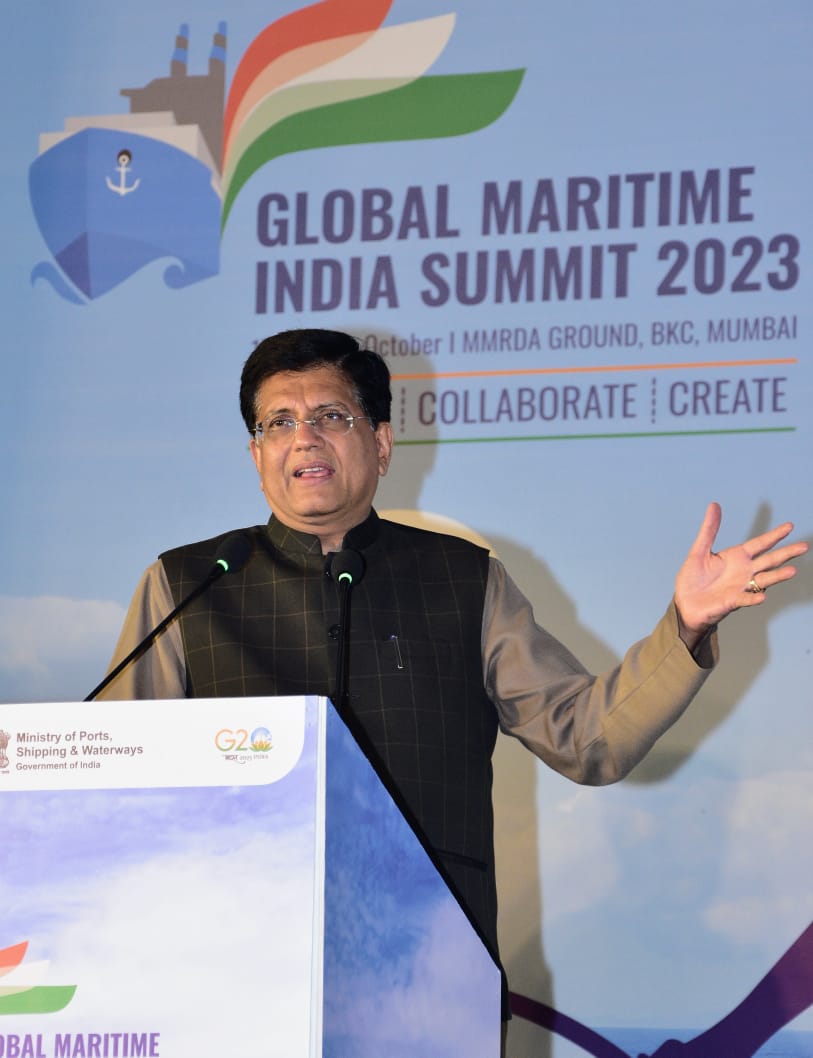 Shri Goyal praised the efforts undertaken by the Ministry of Ports, Shipping and Waterways in enhancing the EXIM trade capacity of India by which it has achieved more 450 billion dollars of trade in 2022-23.
The global summit witnessed participation from more than countries, 215 international and national speakers and 50,000 physical and virtual attendees. Building upon the legacy of its preceding editions, the third meet unveiled broader prospects for domestic and international maritime stakeholders.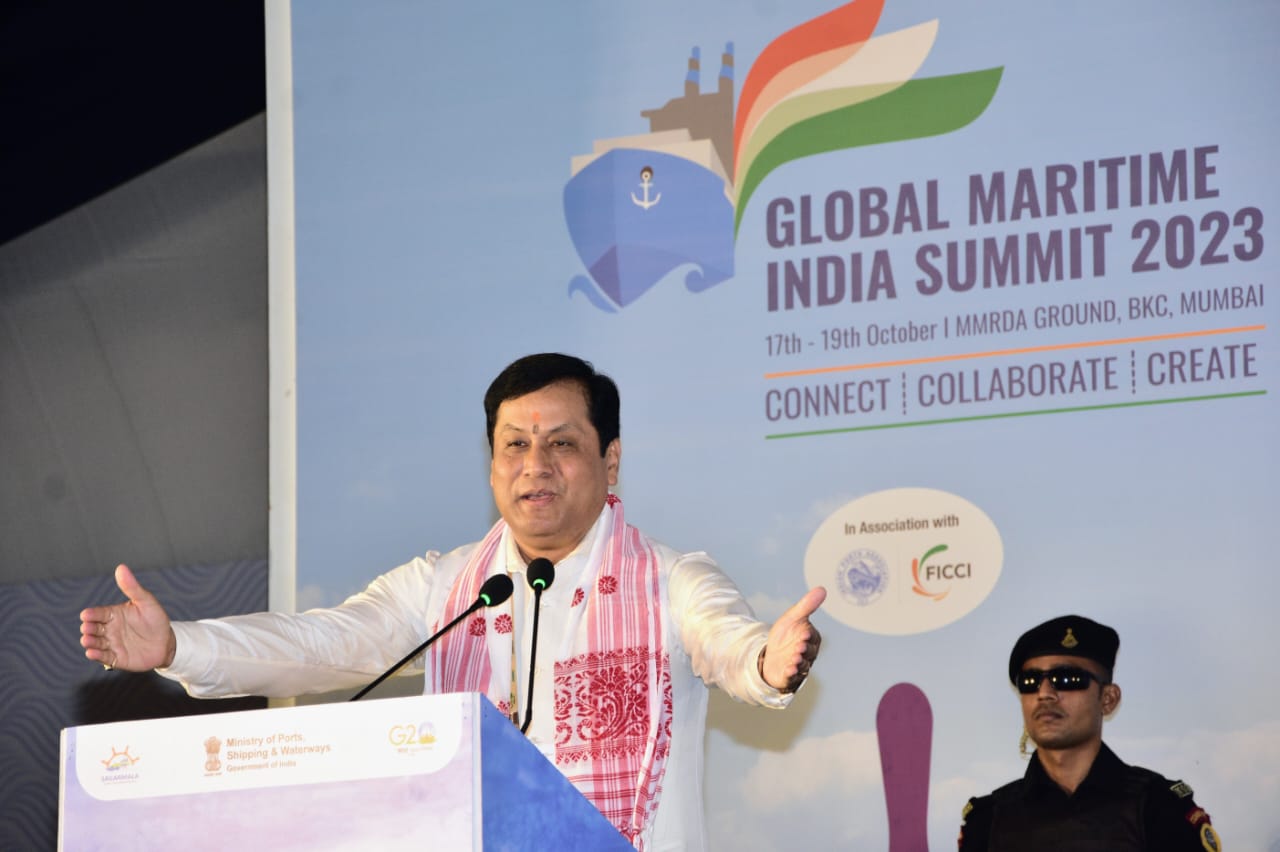 Highlighting role of innovation and technology, the Union Minister Sarbananda Sonowal added, "Under the dynamic leadership of Prime Minister Shri Narendra Modi ji, India has been at the forefront of research and development, and implementation of existing technologies towards driving sectoral efficiency, building capacity. Establishing Digital Centre of Excellence for Maritime Efficiency (COEME) is one of the many initiatives that displays Modi government's commitment towards technological advancement – both towards indigenous and collaborative development. In line with this, harnessing the potential of India's maritime start up ecosystem would be a key focus area for our government."
During this three-day discourse, there was also much discussion about sustainable development with green ports and shipping, an area in which Norway and other leading maritime nations are defining best practises and setting standards that the rest of the world should follow. "India, for example, plans to develop carbon neutrality among other globally trending areas on reduction of GHG emissions with the use of green fuels, electrified/renewable energy-based yard equipment, vehicles", said Sarbananda Sonowal.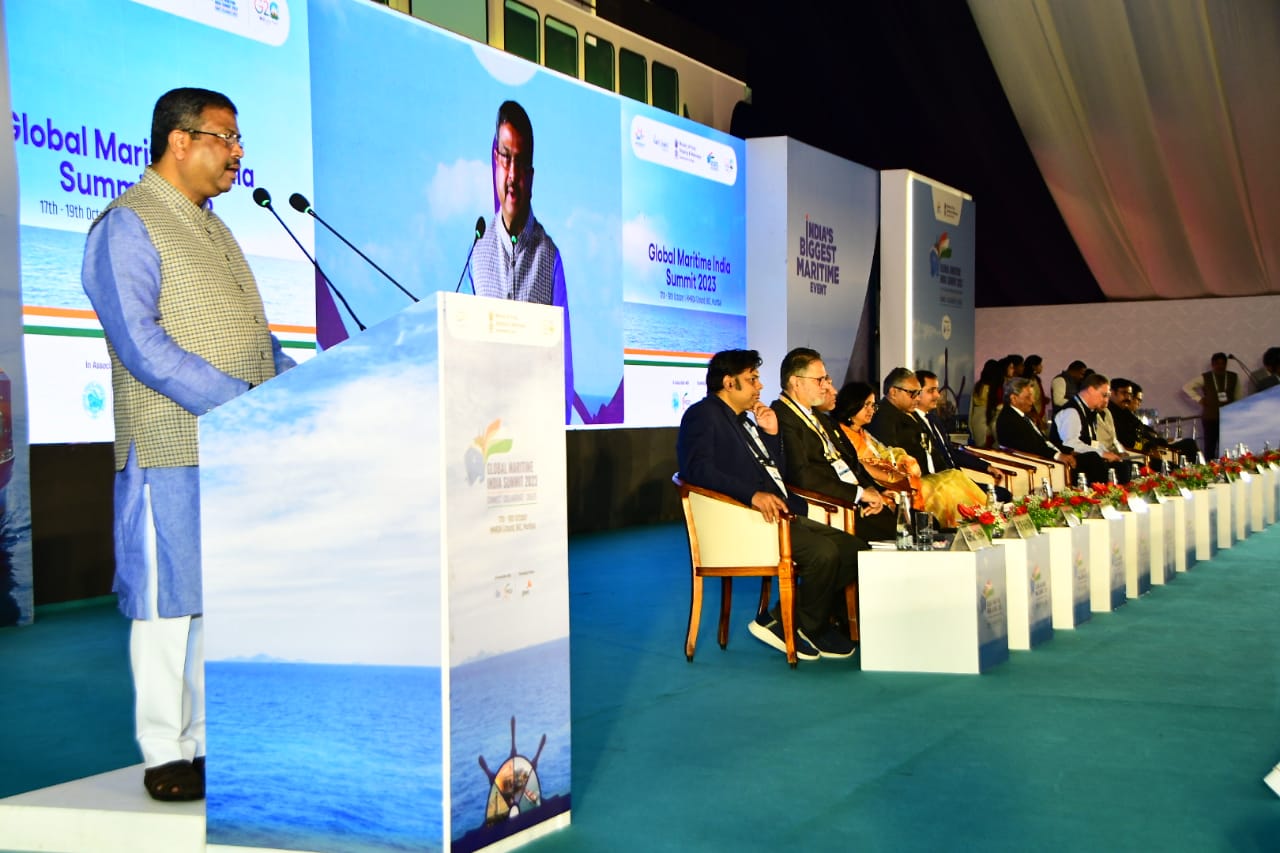 The Union Minister of Education and Skill Development & Entrepreneurship, Dharmendra Pradhan said, "We acknowledge the unsung heroes of the global economy – our seafarers, designated as 'Key Workers' by the United Nations. India's remarkable rise to the 5th position in global seafarer supply is a testament to our decade-long efforts in fostering industry-ready talent."
He also emphasized the need for providing seafarers with a more supportive and more comfortable working environment evolved in the post-pandemic era.
The Union Minister of Commerce & Industry, Textiles, Consumer Affairs, Food and Public Distribution Piyush Goyal, the Chief Minister, Government of Gujarat, Bhupendrabhai Patel along with Shri Sonowal wrapped up GMIS 2023 shared their thoughts on how India's maritime sector is the backbone of nation's economy that contributes towards all the public and private port authorities, shipping lines, legacy companies, startups, MSMEs and other supporting industries.
The three days of the summit witnessed a series of insightful roundtables and sessions, each addressing critical aspects of the maritime sector including the key regional development initiatives with discussions on India Middle East Europe Economic Corridor (IMEC), BIMSTEC, Chabahar port INTSC corridor. Aspects like development of multiple ports of connectivity between Indian and EU countries combat geopolitical uncertainties, promoting maritime as gateway for BIMSTEC and IMEC economic corridors and facilitating joint forums to represent pertinent focus areas at IMO were some of the key areas of discussion.
The GMIS 2023 highlighted the opportunities in the India's cruise sector while bringing to light government's commitment to developing the cruise sector with measures including creation of cruise terminal infrastructure, incentivization with relaxation in taxes, institutional capacity building with training academies dedicated to cruise, and an attractive and stable regularity policy framework in line with international standards inviting international players to set up their base in India. The government is planning to release a holistic Cruise promotion policy.
The GMIS 2023 summit concluded with relevant sessions related to the shipping industry chaired by Dr Mansukh Mandaviya, Union Minister for Minister of Health and Family Welfare and Chemicals and Fertilizers and Shantanu Thakur, Minister of State for Ports, Shipping & Waterways, GoI.
Dr. Mandaviya said, "Maritime clusters play a pivotal role in fostering collaboration, innovation, and efficiency within the industry and are indispensable in propelling our industry forward. By establishing well-equipped and specialized clusters, we aim to attract vessels from around the world seeking high-quality repair services at competitive rates.
This was followed by a special discussion led by Smt Nirmala Sitharaman, Hon'ble Minister of Finance, Govt of India around the maritime financing, insurance & arbitration. The Union Minister of State for External Affairs & Culture, Meenakashi Lekhi also visited the GMIS summit.
Highlighting the achievements of the country's maritime sector, Smt. Sitharaman said, "Over the past 9 years, our efforts have transformed the maritime sector, with a remarkable 4.2 billion US dollars in Foreign Direct Investments, driving progress in this vital industry. India's ports now lead globally, boasting a mere 0.9-day turnaround time, outperforming even international hubs like Singapore and Dubai."
Earlier, the Prime Minister Narendra Modi inaugurated the GMIS 2023 laid the foundation stones for 21 projects worth ₹18,800 crores with 34 MoUs worth ₹3.24 lakh crore was inked during the Inaugural session. This included Green Projects having share of ₹1.8 lakh crore and Projects of Port Development and Modernisation worth ₹1.1 lakh crore. PM Modi also launched Maritime Amrit Kaal Vision 2047 – a roadmap for maritime sector development for the next 25 years, the Amrit Kaal to make India Atmanirbhar by 2047. PM Narendra Modi shared his vision of unlocking investment of ₹80 lakh crores for the development of maritime sector during this period. At the roundtable on Global Economic Corridors, as many as 60 representatives from various countries attended, which included CEOs from 33 international companies and 17 Indian companies. The inaugural session also witnessed 10 ministers from different countries joined the Union Minister Sarbananda Sonowal on the dais at the event. 21 ministers from 10 countries participated in various sessions at the GMIS, 2023.