Films in six languages and across multiple genres selected this year
The much-awaited list of Film Baazar Recommended films has been announced. This year, the selection boasts a diverse mix of fiction, docu-shorts, documentaries, a horror film, and even an animated feature which deal with themes relating to the diaspora, both in India and abroad, patriarchy, urban angst, extreme poverty, climate crises, nationalism, and sports/fitness. The films are in English, Hindi, Bengali, Marwari, Kannada, and Maori (New Zealand language) and brings together an eclectic mix of subjects. The stills of the films can be found on this link:
The list includes the following films:
Fiction Shorts:
ANU (14 minutes), directed by Pulkit Arora (English/Hindi/Maori): When a recent widow moves from New Zealand to India, she clings on to the vestiges of the partner she lost almost a year ago. But a faraway crisis forces her to confront her grief with an ordinary ritual in an extraordinary circumstance: quarantine.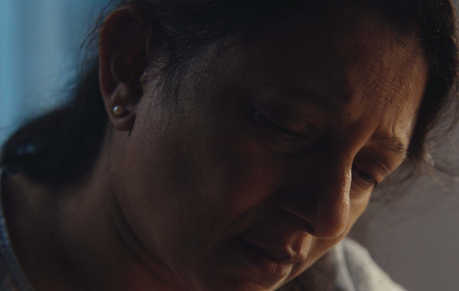 ROTI KOON BANASI or WHO WILL BAKE THE BREAD (25 minutes) directed by Chandan Singh Shekhawat (Marwari): Set in a rural household of Rajasthan. 'Who will bake the bread?' is a film about Santosh. A husband to Roopa and an elder son to Ranjeet, Santosh is a character trapped in the conventional ideas of patriarchy and masculinity. He's constantly reminded of his failures and unworthiness by his father. Contrary to his father's belief system of keeping the women housebound, he wants to support his wife Roopa to go for her last chance at a government job exam. The film explores the ideas of hundreds of years of patriarchy and how it propagates from one generation to another through father/son relationships. The film is a forthright blatant of the everyday struggles of women in Rajasthan as well as the whole of society raising the concerns of inequality, wrongful ideas of manhood and the various sections where man and women both are oppressed due to patriarchal practices.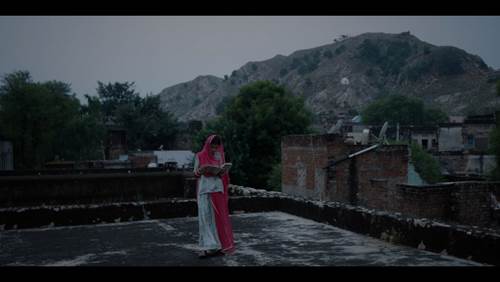 TUESDAY'S WOMEN (29 minutes), directed by Imaad Shah (English): An idyllic morning. Spaghetti bubbles on the stove, classical music plays on the radio, and our protagonist stirs the pot calmly. The moment is broken by the piercing ring of the telephone. When he finally answers it, he hears a soft, husky voice that he doesn't recognize. She says she wants just ten minutes of his time. Ten minutes to come to an understanding. Come to an understanding? he asks. Of our feelings. He wants to put the phone down but is unable to. He asks and tries to find out who she is, but the mystery woman hangs up on him instead, and the spaghetti gets overcooked. This innocuous conversation sets into motion a surreal day where all he wants to do is write in his diary, but the phone keeps ringing and mysterious, fascinating women interrupt his domestic routine, and provide strangely profound insights into his life. With this film we have hoped to create a world that reflects the beautiful strangeness of the writing and to apply it in an Indian setting. It is an adaptation of three short stories by Haruki Murakami, woven together to form a day in the life of our protagonist. He has lost his job and is in a pensive mood. Our efforts to play with language and music are an attempt to find a cinematic depiction of the pace, tone, and storytelling style of this beloved Japanese author. The film of course does hope to stand alone, as a take on the subject material, while constantly being irreverent and setting it in the Indian context.
GIDDH (25 minutes), directed by Manish Saini (Hindi): An old man struggles to make ends meet. He fails to save his dying soon, with just a few rupees in his pocket he could fetch either medicines or food, never both. Work is hard to come by the old starving man doesn't look like a capable labourer. Things are grim until he stumbles upon an unlikely means of survival, but this comes at a cost. He needs to put his conscience at stake for just a few morsels. A calamity strikes and the old man can benefit from it. Helplessness and desperation don't know right from wrong but aren't right and wrong subjective. An internal tussle ensues and soon hunger collides with guilt. With the food on his plate at stake, what will weigh heavier, his hunger or his guilt? Food on one's plate, clothes on ones back these two are the most basic needs of a human being. However, some unfortunate ones struggle to meet all three needs day after day. This story ties up the need for clothes and the need for food with the struggle for existence.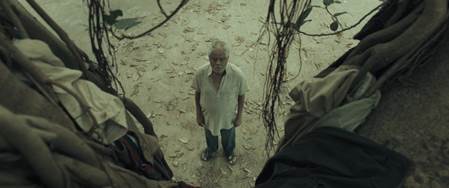 Docu Shorts:
GOPI (14 minutes), directed by Nishanth Gurumurthy (Kannada) : Gopi Siddi is a middle-aged storyteller who identifies herself with the Siddi community (African Diaspora in South India). Inspired by the oral form of storytelling, Gopi desires to get her stories self-published; however, she must first face her battles with alienation, social standing, and environmental catastrophe.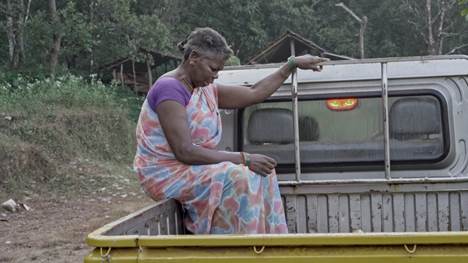 IRON WOMEN OF MANIPUR (26 minutes), directed by Haoban Paban Kumar (Manipuri/English): This film is a tribute to the sports personalities of this country who have contributed tremendously to the development of women in sports. The inspiring stories of these women weightlifting pioneers, Kunjarani Devi (Padmashri Awardee, 2011), Anita Chanu (Dhyanchand Awardee), and Mirabai Chanu (Padmashri Awardee, 2018, and Silver Medalist at Tokyo Olympics 2020), have inspired a whole generation of Indian athletes and the country, as a whole.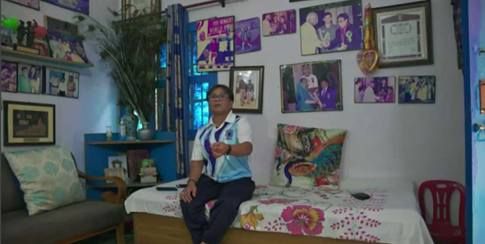 Docu Mid-Length:
WHERE MY GRANDMOTHER LIVES (51 minutes) directed by Tasmiah Afrin Mou (Bengali): Filmmaker Mou goes to her beloved Nanu's house to film her. In her 100-year-old home, Nanu lives alone since her husband's death 27 years ago. For Mou, Nanu's place means a peaceful village memory full of marshes and greens and the majestic family pond. In that pond, for generations, neighborhood children grew up learning to swim. Rawnak, Nanu's another maternal grandson, lives with his family next to her house. In Rawnak's house, there is a small pond still surviving, but many of the heirs from Rawnak's father's side want to sell this pond too. Rawnak doesn't want to sell their own family pond containing his father's memory. Ironically, his own business is to buy marshes or ponds, "develop" them as residential plots by filling them with sand and sell them. The "development" is going on all over the country, destroying the waterbodies and obliterating all the creatures living in them.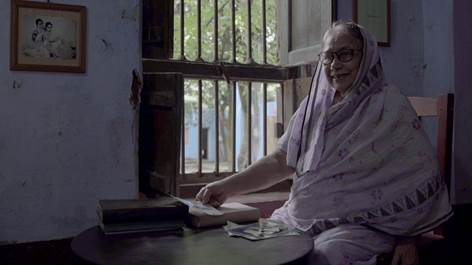 LADAKH 470 (38 minutes), directed by Shivam Singh Rajput (Hindi/English): Sufiya Runner from Ajmer, Rajasthan, an ultrarunner with five Guinness world running records is gearing up for her most ambitious endeavor – a marathon no one has ever undertaken. She plans to run 470 kilometers at 11,000 ft plus altitude from Siachen base camp to Kargil war memorial in 7 days to honor all Indian army battle heroes of the Kargil war. Asshe runs through terrain up to 17980 feet, Sufiya's coach, her partner and the Indian army are all working hard to help her achieve her goal. She and her Sufi mindset make this run one meditative experience for herself and she crosses the finish line.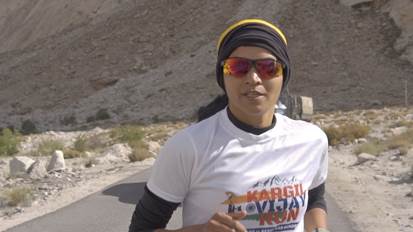 Features:
THE EXILE (HORROR) – (82 minutes), directed by Samman Roy (Bengali): The film tells the story of Gouranga, a young man from a village in Bengal who has lost his wife recently. This loss is not only looming large on the family, which has been through a series of tragedies over the years, but also personally on Gouranga's mind as he is not able to come to terms with his wife's death. Eventually Gouranga embarks on a journey, where he can confront not only his own demons, but also comes across certain myths based in these rural settings, which border on the supernatural. The film is set in the late 1960s and deals with themes like loss, superstitions, sexual deviance, the supernatural as well as the role of the female in a society which at that time, was at a crossroad of the waning, age-old traditional belief systems and the ushering of postmodern thoughts and politics.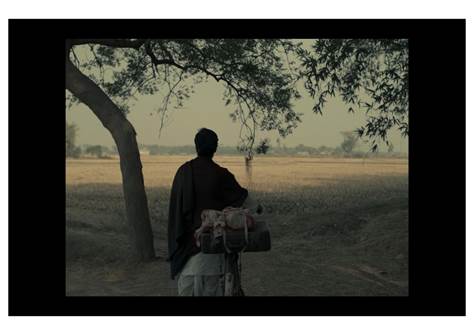 RETURN OF THE JUNGLE (ANIMATION) – (105 minutes), directed by Vaibhav Kumaresh (Hindi): 9-year-old Mihir and his friends are faced with the daunting task of outwitting the biggest, meanest bully in school – Rahul Malhotra. To help them ride through this impossible journey, they have the coolest grandpa in town – Thatha and his fantastic tales of inspiration from the ancient Jungles of India! Together, they must build a ruthless Dinosaur, fight a nerve-racking game of cricket, and travel all the way to Rajasthan, to rediscover the power of friendship, compassion, and determination. Return of the Jungle is contemporary Indian animation – like never seen before! An inspiring family entertainer – it is hugely nostalgic, relatable & local.